September 22, 2011
National Youth Orchestra of Jamaica (NYOJ) Launches Clinton Global Initiative
Jamaica: NYOJ Press release
DIRECTOR-GENERAL OF UNITED NATIONS EDUCATIONAL, SCIENTIFIC AND CULTURAL ORGANISATIONS (UNESCO), IRINA BOKOVA, ANNOUNCES NYOJ's COMMITMENT AT THE 7th CLINTON GLOBAL INITIATIVE IN NEW YOURK
NEW YORK, Sept. 22, 2011 /PRNewswire-USNewswire/ -- The National Youth Orchestra of Jamaica (NYOJ) today launched a Clinton Global Initiative that commits to expand its music training program from one to three centers over the course of three years. Its current center in Kingston serves 50 individuals between the ages of 10 and 18. The establishment of a second center will enable the program to reach a further 80 children, and the third center will reach 70 additional students.
According to UNICEF Jamaica, the protection of Jamaican children from violence, abuse, and exploitation in all its forms is one of the biggest challenges facing the nation. The high rate of crime and violence plaguing Jamaican society has had a devastating impact on children.
As result of exposure to violence, the Office of the Children's Advocate in Jamaica's 2009 Annual Report stated, "....damaged, frightened, angry children, in the absence of effective and timely interventions, make anti-social or delinquent mal-adaptations in order to survive in social environments that are hostile and toxic".
Nigel Clarke, Chairman of the board National Youth Orchestra of Jamaica (NYOJ), said, " This expansion is an important step. We hope to inspire, motivate and energise at-risk youths in our new centres, infusing in them the discipline, values and mindset required for survival and achievement in the world. Classical music training is our tool."
These new centers will maintain the goal of empowering at-risk youths through classical music training. The mix of music education, practice and performance aims to impart life skills, increase school attendance, and challenge negative cultural preconceptions while developing practical musical abilities.
According to the National Plan of Action for an Integrated Response to Children and Violence (Child Development Agency and Planning Institute of Jamaica, 2011) the youths involved in these offenses, both victims and perpetrators, suffer from low self-esteem, lack life skills development, and have a culturally-honed defensive temperament, including anti-social behavior early in life.
The solutions call for programs that build self-esteem and self-efficacy, and assist in reducing anti-social behavior. In fact, the Plan of Action advocates for school-based programs, especially those that address dropout prevention, life skills, and created recreation or training opportunities.
The NYOJ's program provides a dynamic after-school educational environment that focuses on teamwork and personal development through classical music training. The program fosters self-esteem, discipline, and dedication by engaging youth from underprivileged backgrounds and those who have a history of anti-social behavior. The success of the NYOJ's existing center at the St. Andrew Technical High School in West Kingston has led to an overwhelming demand to serve other communities in Jamaica. The challenges and experiences gained from the first two years of have provided a successful framework for implementation in other disadvantaged, violence-prone areas of the island.
About National Youth Orchestra of Jamaica (NYOJ)
National Youth Orchestra of Jamaica (NYOJ) is a non-profit, non-government organisation engaged in empowering Jamaican youths through classical music training and the development of youth orchestras. The NYOJ manages this program for social change in challenged communities in collaboration with the Organisation of American States (OAS) and our partners include Island Outpost, Seprod Limited and the Digicel Foundation.
SOURCE National Youth Orchestra of Jamaica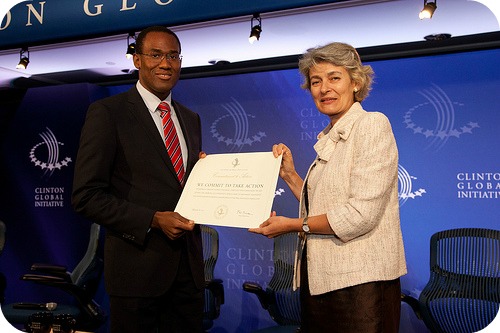 Irina Bokova, UNESCO Director General, and Nigel Clark, NYOJ President, during the announcement
LINK:
NYOJ release