F STREET GALLERY EXHIBITION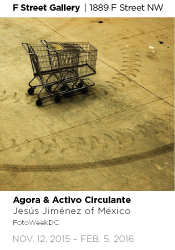 ---
F STREET GALLERY EXHIBITION
Jesús Jiménez of México
Agora and Activo Circulante

---
On view November 12, 2015 – January 15, 2016
OAS F Street Gallery
1889 F Street, NW, Washington DC 20006

By appointment only, Mon-Fri from 9am to 5pm 
Please call 202-370-0151
Opening Reception (no appointment necessary): November 12, 2015 at 6pm
---
ABOUT THE EXHIBITION
The OAS AMA | Art Museums of the Americasis proudly presents Agora & Activo Circulante, an exhibition of photographs by Jesús Jiménez, as part of FotoWeek DC 2015.

This exhibit at the OAS F Street Gallery is supported by the Permanent Mission of Mexico to the OAS.

An obsession with order, to remove playful objects from their contexts, provides Jiménez with inspiration. He stages his photographs by placing these objects into absurd places and situations, offering not a narrative but enhancing their sheer visual components and relationships with the world. The poetry in each subject, as in Marcel Duchamp's found objects, comes alive when represented in extraordinary ways.

Agora and Activo Circulante examines consumption and economics, questioning the abstraction concept of money and what it means that unfolded paper holds monetary value, and has a life of circulation. Here, unfolded paper has its own inherent characteristics that are highlighted as compositional elements. The Agora series uses supermarket carts, calculators, cash registers, and hoods to shape speech. Childhood memories and poetic moments feed the artist's everyday life. With traces left by the wheels of shopping carts, stained walls and floors with a broom, signs that lead us nowhere, and gutted machine-paper rolls Jimenez allows us to revisit days of astonishment and play. There is a puzzle to solve in negotiating surprising contexts for banal objects, forming fresh relationships between artist, image, and audience. These images present their subjects as means to an end, not as ends in and of themselves, all the while raising questions.