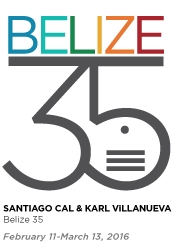 Belize 35
35-Year Independence Anniversary Exhibit
---
On view February 11-March 13, 2016
Opening Reception: February 11, 2016 at 6pm
RSVP by clicking here
---
The OAS AMA | Art Museum of the Americas presents an exhibition with artist Santiago Cal and photo journalist Karl Villanueva to commemorate the 35th anniversary of Belize's independence using an approach that is both artistic and historic. Belizean sculptor Santiago Cal has been commissioned to create a large installation occupying an entire museum gallery. Cal's piece includes as its subject matter Belize's first Prime Minister George Cadle Price along with symbolic national elements such as the tapir, the national animal of Belize. According to the artist, the tapir's mannerisms and dignity are consistent with Belizean identity as a peaceful nation. To complement Cal's sculptural installation, a series of photos taken on September 21, 1981 by a then 24-year old photojournalist, Karl Villanueva, will be on display. These images, according to Villanueva, capture the most important day in his country's history. It was Independence Day for Belize, the last vestige of colonialism on the Central American mainland.

Its leader, George Price, dedicated thirty-five years of his political life to this eventuality; the day Belize came to control its own destiny. Thirty-five years later, Belize and the world celebrate Price's legacy. But this time is different. Villanueva uncorks for the first time a rare time capsule of that historic day captured through the lens of his 35mm camera. It is a visual journey of British pageantry, faces of new citizens embracing the promise of a new beginning, and old colonial architecture awash in multi-colored lights.

Villanueva shares with us the colorful photography of the time period, exuding panoramic relief while drawing viewers in to become acquainted with a diverse people and an astute leader. Even in those places in Belize where light does not travel well, Villanueva's chronicles in living color a most memorable day in the life of a country still considered among the best-kept secrets of the Americas.   

Special thanks to Tiburon Rum, DigiWorld;  Rogers Park Produce; MVPfoundation.info;  Mr. Fred Robinson; Dr. Eve and Ambassador Jean C. Alexandre; Honorary Consul Chariff Hachim, the Comoros Islands for supporting Karl Villanueva's project..            
Special thanks to the Hixson-Lied College of Fine and Performing Arts, University of Nebraska- Lincoln for supporting the Santiago Cal installation project.

---