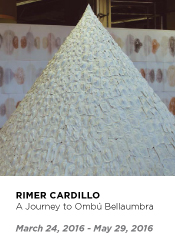 Rimer Cardillo (Uruguay)
A Journey to Ombú Bellaumbra
---
On view March 24 through May 29, 2016
Opening Reception: Thursday, March 24 6-8pm
RSVP by clicking here
---
The OAS AMA | Art Museum of the Americas in partnership with the Nassau County Museum of Art (NCMA) presents "A Journey to Ombú Bellaumbra," a career-spanning exhibition of works by Uruguayan artist Rimer Cardillo, curated by NCMA's Director, Dr. Karl E. Willers. This exhibition has the support of the State University of New York - New Paltz. This exhibition features a diverse body of Cardillo's work including prints, photography, sculpture and installations. He creates site-specific pieces that he refers to as cupí (the Guaraní word for anthill), as well as photo and film-based documentary work related to his collaborations with scholars and practitioners in the fields of entomology and archaeology. He is also noted for his journalistic explorations of the Amazonian interior, rural estancias of northern Uruguay and southern Paraguay, and other remote regions of the South American continent. Cardillo draws influences from the landscape and environment of both his native Uruguay and of the Hudson Valley area where he currently lives. His work often reflects his concern over the demise of native people, flora and fauna around the world.
The diverse type of works and techniques represented in this exhibitions include Cardillo's exploration of the versatility and malleability of handmade paper in a wide variety of sculptural works. In the creation of unique forms called Nests, soft paper pulp is hand pressed into plaster or clay molds cast directly from collected plant specimen or found animal remains. His works also include objects that resulted from plaster poured over the deceased bodies of roadkill - birds and mammals that have come into contact with traffic on encroaching highways or whose habitats have been overrun by urban sprawl and building development. The exhibition also incorporates Rimer's uncolored wooden boxes that hold a series of prints made with a complex combination of techniques including etching, aquatint, mezzotint, engraving and embossing. They represent, in the most detailed manner, different species of insects and plants. Among Cardillo's most recent works there are cast and welded aluminum sculptures, the Carapaces, are made of cast aluminum. They were created in different small foundries and welding shops that seemed primordial, looking like they were from an ancient time and place.
Rimer Cardillo was born in 1944 in Montevideo, Uruguay. He received his M.F.A at the National School of Fine Arts (Montevideo), and later studied in Germany at the Weissenssee School of Art and Architecture (Berlin) and the Leipzig School of Graphic Arts. Cardillo is a Guggenheim Fellowship award winner who represented Uruguay at the 2001 Venice Biennial and has had many group and solo exhibitions throughout the Americas as well as in Europe, Africa and the Middle East. Cardillo's work is included in the collections of such prestigious institutions as the Art Institute of Chicago, Cincinnati Art Museum, Museum of Modern Art and The New York Public Library, among many other museums in South American and European cities. Cardillo is a professor of art at SUNY-New Paltz. He lives and works in New Paltz, New York City and Montevideo.
---