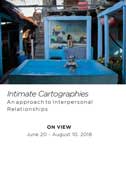 Cartografías Intimas: un acercamiento a las relaciones interpersonales
Intimate Cartographies: An Approach to Interpersonal Relationships

---
By appointment only, Mon-Fri from 9am to 5pm
Please call 202-370-0151
fgoncalves@oas.org
Opening Reception (no appointment necessary): Wednesday, June 20, 2018 6-8pm
On view June 20–August 10, 2018
OAS F Street Gallery
1889 F Street, NW, Washington DC 20006
The OAS AMA | Art Museums of the Americas proudly presents Intimate Cartographies: An Approach to Interpersonal Relationships, an exhibition of contemporary photography by outstanding artists from OAS member states Argentina, Chile, Mexico, and Venezuela; and OAS permanent observer states Italy and Spain. As part of the OAS's Secretariat of Hemispheric Affairs, AMA aims to highlight the four OAS pillars-- democracy, human rights, security, and development—through the visual arts of its member and observer countries.

Cartography and photography are similar in that they both originate from a naturalistic reality. But this representation is not exact, it is mediated. Depending on the technique and means used, the representation will be subjective. The images in this exhibition hold a subtle informative quality, closely connected with the lyrical documentation of Walker Evans, "where many of his landscapes were not documented but created by him." In its subtle, lyrical way of transmitting the cardinal information, the selected images refer to a place that did not always exist, and that is not necessarily a physical place, contributing to the creation of a personal and intimate cartography by the viewer.

Exhibiting Artists
Marcela Bruna, Chile
Alicia Caldera, Venezuela
Eduardo Carerra, Argentina
Carol Espindola, Mexico
Vicente Gonzalez Mimica, Chile
Giulia Iacolutti, Italy
Javier Leon, Mexico
Claudia Lopez Ortega, Mexico
Antonio Lozano, Mexico
Xavier Martin, Argentina
Paco Orbu, Mexico
Celeste Ortiz, Chile
Silvia Varela, Spain

AMA | Art Museum of the Americas' work is based on the principle that the arts are transformative for individuals and communities. This belief simultaneously serves to promote the core values of the Organization of American States (OAS) and its Secretariat of Hemispheric Affairs (SHA) by providing a space for cultural expression, creativity, dialogue and learning, highlighting themes such as democracy, development, human rights, justice, freedom of expression, and innovation. AMA's work advances the inter-American agenda, drawing on the arts to showcase a constructive vision of the future of the Americas via local and hemispheric cultural exchange.

The OAS F Street Gallery is accessible from the street level by elevator. For accessibility information or concerns, please contact gsvitil@oas.org or 202 370 0147.
---
---
---