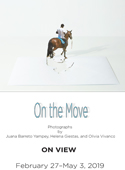 On the Move: Photographs by Juana Barreto Yampey, Helena Giestas, and Olivia Vivanco

---
OPENING RECEPTION
Wednesday, February 27 6-8pm
RSVP

ON VIEW
February 27–May 3, 2019

HOURS
By appointment only, Mon-Fri from 9am to 5pm
Please call 202-370-0151

LOCATION
Organization of American States
Secretariat for Hemispheric Affairs
OAS AMA F Street Gallery
1889 F Street, NW, Washington DC 20006

ADMISSION
Free

---
The Art Museum of the Americas of the Organization of American States | OAS AMA joins CEDA Washington to present the new AMA Artwork Shop. With works from the OAS AMA F Street Gallery, the initiative aims to support photographers of the Americas, offering curated photography that you can purchase online, as part of the #AMAatHome | #AMAenCasa platform. Click on the links to browse artworks by Helena Giestas and Olivia Vivanco.
The OAS AMA | Art Museum of the Americas announces the opening of On the Move: Photographs by Juana Barreto Yampey, Helena Giestas and Olivia Vivanco. Curated by Fabián Goncalves Borrega, the exhibition features new work by the three artists. When people travel, their private and public spaces overlap. Paths cross, and people with different destinations and motivations see their lives intertwined in ways clear as well as subtle, for times periods both extensive and brief. This exhibition explores the connective bonds between individual and collective experiences. These three artists invite us to reflect on the continuous movement of people from place to place, walking a blurred line where private and public spaces and experiences overlap.

This is evident in the Terminal series by Paraguayan artist Juana Barreto Yampey, where these connective lines between travelers are redrawn over and over at the central bus station in Asuncion. It is at the terminal where she captures the merging of individuals' drives with the collective experiences of mass transport in the south-central regions of South America. Barreto uses the terminal's decorations as she would stage objects surrounding a sitter to launch visual narratives to tell the stories of her subjects. On her portraits of travelers, vendors and local characters, she captures individualities against the calm bus terminal background.
Mexican artist Olivia Vivanco depicts personal objects and religious relics, migrants' hands accompanied by text, drawing us more closely to stories of migration. These strong images bring to mind displacement, fragility, willpower and suffering. As Vivanco describes, "the trip is hard and there is no room for luggage, however, they always carry something special: an image, an object, material memories that evoke their identity. It is a long journey that involves losses so that at each step these objects acquire more value. These are the evidences of who they are and the reasons why they should continue." Ms. Vivanco travels the migrant route, documenting through her work, an honest and tender communicator.

Brazilian artist Helena Giestas's series When I See No Longer features photo-cuts of white silhouettes on a white surface, evoking displaced people constantly on the move. From her car window she captures people walking, bicycling, on horses, on carts, and in cars going about their daily routines and business, sharing the road with her, each in their individual reality. In her studio she creates a composite of images, leading them to coexist in a common "theater," a collage of images printed in a roll of photo paper. Then she partially cuts around each silhouette, bending each of them back, making them appear standing against a white background of the photo paper's back. Giestas transforms her subjects' individual drives and destinations into a collective theatrical experience with no apparent purpose or common plan.

Juana Barreto Yampey has worked as a photographer since 2007 and attended photography courses and workshops inside and outside Paraguay, has studied digital cinema in Spain, and earned her Graphic Design diploma at the School of Fine Arts in Asuncion, Paraguay.

Between 2012 and 2015, Olivia Vivanco visited and volunteered at several shelters, including La 72 in Tenosique, Tabasco, Mexico; where she has maintains intimate contact with migrants on the road.

Holding her first public exhibition in 2008, Helena Siemsen Giestas has since presented three individual exhibitions and participated at various group exhibits in Brazil. Pieces of work from Helena were included at the private collection of Joaquim Paiva and in the archive in MAM of Rio de Janeiro. In December 2017 she participated with Arquipélagos in a group exhibition organised by Fabiana Bruno. This group works together since 2014 in Campinas. Helena opened her studio in 2012, Canto da Foto, where she teaches photo-biography, works with editing and handmade bookbinding. In 2011 she concluded a pos- graduation in Multimedia, Visual Arts and Education at (Unicamp) Universidade de Campinas, SP. In the 1990's she worked with video-surgery in hospitals in Brazil and the EUA. Helena was born in the city of São Paulo, and lives and works in Valinhos, São Paulo. Siemsen Giestas's photo-cuts are made of photograph images and cuts done on the  paper and  pulled backwards from the photo surface.  By cutting the images out line but bi-dimensional plan is questioned and challenged and transform. The color image gives permission to the white paper of the back. She photographs on side-walks and highways throughout Brazilian cities, in the states of Goiás, Bahia, Espírito Santo, and São Paulo.

The AMA serves as the principal instrument of cultural diplomacy of the OAS. AMA's mission is founded on the notion that the arts are transformative for individuals and communities. This guiding principle promotes the core values of the OAS by providing a space for cultural expression, creativity, innovation, dialog, and learning, while highlighting themes such as democracy, development, human rights, justice, freedom of expression, and innovation. AMA's work draws on contemporary art to showcase a constructive vision of the future of the Americas via local and hemispheric cultural exchange.

Accessibility: AMA's F Street Gallery is wheelchair accessible. For more information on accessibility, or to make an appointment to visit, please contact 202 370 0147 or artmus@oas.org

For more information on AMA, please visit AMAmuseum.org
---
---