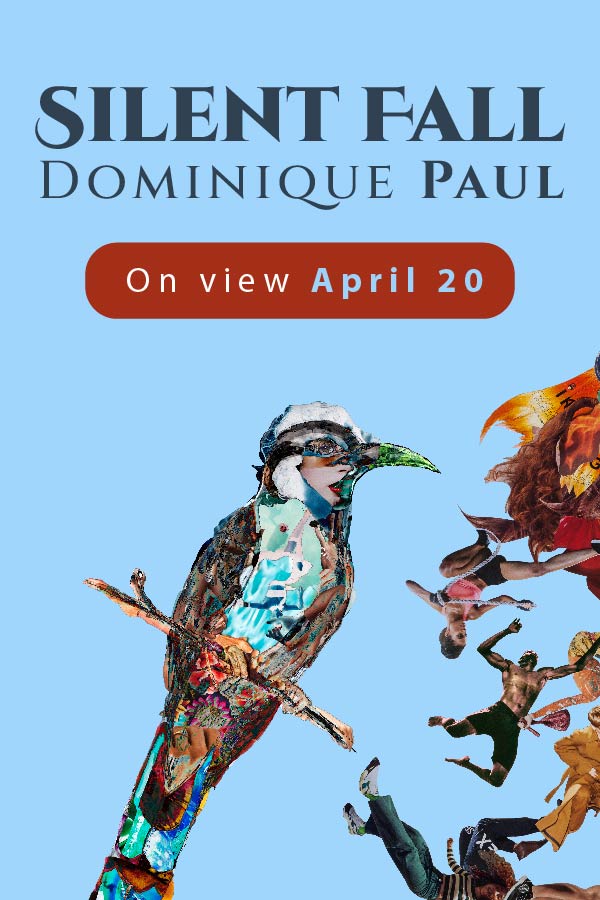 Dominique Paul
Silent Fall
On view April 20, 2023

HOURS
Tuesday-Sunday 10AM-5PM

LOCATION
OAS AMA | Art Museum of the Americas
201 18th Street NW
Washington, DC 20006

ADMISSION
Free
Exhibition Opening:
Thursday, April 20 6-8pm
OAS AMA | Art Museum of the Americas
201 18th Street NW
Washington, DC 20006
Silent Fall
is an environmental justice exhibition on the decline of biodiversity by Canadian multidisciplinary artist Dominique Paul, curated by Ayelet Danielle Aldouby.
Silent Fall
surveys Paul's work in the last decade, highlighting species at risk in the Americas. Using photography, video, interactivity and mixed-media installations, the exhibit, as Aldouby writes, "inspires us to collaborate as compassionate beings and reclaim our role as temporary guardians of a vanishing world."
On Thursday, April 20 from 6-8pm, an opening reception will take place at the AMA (201 18th Street NW), which will include a book launch of
Silent Fall | Devenir oiseau | Becoming Bird | Convertirse
en ave at the opening with texts by Chantal Pontbriand and Ayelet Danielle Aldouby. RSVP
here
.
Silent Fall
, running between April 20-July 20, will celebrate Earth Day on April 22nd, 2023 with the launch of the accompanying educational program
Song for the Birds
, led by educator Rachel Mewes, with curator Ayelet Danielle Aldouby, presenting
Animal Population Decline
, a performance by the artist Dominique Paul and accompanying singer Juno Brown. Supplementing the exhibit, the participatory educational program will address both in person and online audiences utilizing several artistic approaches serving as a homage to the artist's creative process: poetry, mapping, collage, drawing, printmaking, and more.
The program will be facilitated monthly on Saturdays and Sundays from 10am-1pm:
Saturday, April 22
Saturday, May 20
Sunday, May 21
Saturday, June 24
Sunday, June 25
Saturday, July 15
Sunday, July 16
For online resources visit
www.silentfall.org
The
Silent Fall
educational program is supported by the
Roman Foundation
.
___________________________________________________________________________________
Paul emerged in the early 2000's with a heightened awareness to inequalities which she explored through a photography centered on the notion of multiple "selves." The work combines diverse geopolitical sites and beings to expand one's consciousness about the environment. This synthesis is achieved by creating a continuum between human, animal, and machine. Inspired by scholar Donna Haraway in her book Cyborg Manifesto (1985), Paul used technology to comment on the impact of the patriarchal spirit, essentialism, and naturalism through the creation of her own cyborgs.
Inspired by Rachel Carson's cautionary environmental science book Silent Spring (1962), the title Silent Fall amplifies the impact of the human silence in light of the continued environmental devastation. Sixty years later, the dual meaning of Fall goes beyond the literal and seasonal imagery. Through the presentation of Paul's artistic practice incorporating images, sounds, and movements, visitors are urged to become active participants rather than passive viewers.
Silent Fall aims to create a communal space for reflection and dialogue, while cultivating a sense of empathy and agency for collective action. The Canadian artist serves as an oracle warning that what we see today, may not be here in the very near future.
___________________________________________________________________________________

Born in Montreal, Dominique Paul is a multidisciplinary artist. She has both a studio and a performance practice, integrating interactive technologies and creating exoskeletons for the body and for images, to address social issues such as increasing inequalities, environmental injustice and the decline of biodiversity. In 2022, she did a collaborative spoken word performance with 150 teenagers where each participant created a structure to become one of the 150 animal species at risk in Quebec.

While studying for her master's degree in Sydney, Australia (UNSW, 2000), she was invited to present her research at Barnard College (Columbia University), New York City. She was enthralled by the city and has been sojourning there ever since, witnessing the gentrification and exodus of many artist friends, a fact that inspired her performance practice in the public space. Since 2012, she was awarded multiple grants for residencies and long stays, exhibiting and participating in over twenty events such as UnHomeless NYC, Kingsborough Art Museum, and Mapping Life, NJCU Visual Arts Gallery, and presenting videos at 10 Times Square and at Miyako Yoshinaga gallery where she is represented. Her work was featured in HuffPost, Time Out, New York: The Cut, Art Slant, SFAQ, Photograph and Whitehot Magazine.
In Europe, she exhibited mainly in France's Lyon area (museums, an art centre and gallery) and at the Paris Photo Art Fair. She took part in two international exhibitions in China: the Beijing Art Biennale and Montreal Contemporary Art, Shanghai. In Washington, D.C., her artworks are part of the Art Museum of the Americas collection as well as the Smithsonian Institution's. In 2019, she published an essay with L'Harmattan, Paris, updating her doctoral thesis (UQAM, 2009).
Ayelet Danielle Aldouby
is a public art and social practice curator working at the intersection of art education and wellness. Aldouby serves as the curatorial consultant at Residency Unlimited (RU) in Brooklyn, NY where she founded the ARTmobile artists residency in collaboration with the Brooklyn Public Library. Aldouby instructs The Arts & Community Engagement at the Art and Art education program, Columbia University, Teachers' College and is a Humanities New York Public Humanities Fellow 2022-23 at Columbia University. Her research focuses on Ethics of Care in Participatory Arts Engagements, reflective artistic practices and Transformational Learning.
Aldouby was the founding member and lead curator for IDEAS xLab - cultivating artists as agents of change supported by the National Endowment for the Arts (NEA) and has curated public art at the 51st & 52nd Venice Biennales as well as "Re:Construction" public art initiative with the Alliance for Downtown NY. She served as the president of the National Art Education Association (NAEA) Community Art Caucus (CAC) and recent publications include; Dominique Paul: The Artistic Practice as Geography of the Heart, in the catalogue Silent Spring: Becoming Bird; The Creative Listening Workshop: Exploring the Potential for Transformational Learning in the TLC publication (2022); Then and Now - a Harlem Renaissance curriculum guide with the Wallach Gallery at Columbia University; Natchez: Inclusion and Soaps in Concinnitas: The Journal of the Institute of Arts /University of Rio de Janeiro, and Seeing the Unseen in Trends - Texas Art Education Journal.
Silent Fall
is made possible thanks to the Permanent Mission of Canada to the OAS, with the support of the Canada Council for the Arts, the Conseil des arts et des lettres du Qu
é
bec, the Conseil des arts de Longueuil, Universit
é
du Qu
é
bec a Chicoutimi, the Roman Foundation, and the Friends of the Art Museum of the Americas
.

<![if !supportLineBreakNewLine]>
<![endif]>