Waterweavers:
The River in Contemporary Colombian Visual and Material Culture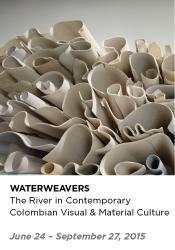 ONLINE PRESS RELEASE AND OTHER RESOURCES


FOR IMMEDIATE RELEASE:
June 3, 2015
Additional images available

CONTACT:
Greg Svitil | T: 202.370.0147
[email protected] | AMAmuseum.org
Waterweavers: The River in Contemporary Colombian Visual and Material Culture

AMA | ART MUSEUM OF THE AMERICAS
Organization of American States
201 18th Street, NW
Washington, DC 20006

Opening Reception | Wednesday, June 24, 2015 at 6pm
On view through September 27, 2015
WASHINGTON, DC – The OAS AMA | Art Museum of the Americas in partnership with the Embassy of Colombia in Washington, D.C. present Waterweavers: The River in Contemporary Colombian Visual and Material Culture, an exhibition on contemporary Colombia organized by the Bard Graduate Center Gallery (BGCG) of New York and curated by José Roca with Alejandro Martín. Following its debut at BGCG in New York City, Waterweavers traveled to ARCO Madrid (February-March 2015), and now arrives to AMA | Art Museum of the Americas in Washington, D.C. (June 24-September 27, 2015).

The confluence of the image of the river and the act of weaving is present both metaphorically and literally across contemporary practices in Colombia. Using the river as a conceptual device to explore the intersections in Colombian culture today between design, craft, and art, Waterweavers investigates the intricate ways in which culture and nature can intertwine across disciplines. The series of displays emerge from a curatorial strategy in which immersive environments presented on the walls frame three-dimensional pieces at the center of each room. The exhibition includes drawing, ceramics, graphic design, furniture, textiles, video, and installations. Unexpected juxtapositions create a critical and conceptual friction between works and practices that are seldom shown together.

The exhibition also speaks of how Colombia's complex topography has historically caused waterways to be the only means of transportation between many communities—rivers have both united and separated people. Today, when most Colombians live in cities, rivers continue to serve as the sole access to remote areas, but they also play a new role, as the axis for a different type of economics such as the black market fueling the armed conflict. Waterweavers addresses these issues from very different points of view, presenting a territory laden with conflict while showing the creative output that nevertheless thrives in the midst of—or in response to—hardship.

Waterweavers presents the creative output that nevertheless thrives in the midst of—or in response to—hardship. Rather than isolating objects from their domestic or ritual contexts and then re-contextualizing them in the gallery space using photographs, maps, and other media, as is conventionally done in ethnographic museums, this exhibition allows the visual and material force of the objects to provide their own contextual information. Thus, for example, video installations show the rivers and violence-afflicted territories of Colombia, while furniture, textiles, and other objects provide the materiality of specific places in various forms: fibers dyed with pigments using traditional production techniques and motifs; textiles that mix industrial and natural materials; lamps woven from discarded plastic bottles; chairs constructed with bamboo roots; and piled clay rolls resembling a riverbed, among others.
Participants:
Olga de Amaral
Ceci Arango
Alberto Baraya
Monika Bravo
Alvaro Catalán de Ocón
David Consuegra
Nicolás Consuegra
Clemencia Echeverri
Juan Fernando Herrán
Jorge Lizarazo
Susana Mejía
Abel Rodríguez
María Isabel Rueda
Lucy Salamanca
Tangrama
Marcelo Villegas
Carol Young
AMA presents
Waterweavers
as exemplary of its mission of highlighting artwork and objects in an exhibition that addresses core values of the Organization of American States (OAS), touching on themes such as human rights, justice, peace, environmental protection, innovation and development. AMA Director Andrés Navia states that the artists and designers showcased here combine aesthetics with topical social and political issues in ways that are both fresh and engaging, conveying powerful messages with refinement and sobriety.
Waterweavers
promises to be one of most politically and socially relevant exhibits since his tenure at AMA.
Waterweavers organizer, the Bard Graduate Center, is a graduate research institute of Bard College that opened in New York City in 1993. Exhibitions and publications at Bard Graduate Center Gallery, as well as MA and PhD programs, and research initiatives explore new ways of thinking about decorative arts, design history, and material culture. Exhibitions organized by the Bard Graduate Center Gallery consider issues and ideas that exist largely outside the established canons of art history, from monographic exhibitions examining specific architect-designers to thematic presentations addressing the role of women in the history of twentieth century design and exhibitions that reveal the meaning of objects as signifiers of various cultural and national identities.
Exhibition curator José Roca is a Colombian curator living and working in Bogotá. He recently was the Estrellita B. Brodsky Adjunct Curator of Latin American Art at Tate, London, and continues to be the Artistic Director of FLORA ars+natura, an independent space for contemporary art in Bogotá. For a decade, he managed the arts program at Banco de la República in Bogotá. Roca was a co-curator of the I Poly/graphic Triennial in San Juan, Puerto Rico (2004); the 27th Bienal de São Paulo, Brazil (2006); and the Encuentro de Medellín MDE07 (2007); and was the Artistic Director of Philagrafika 2010. He served on the awards jury for the 52nd Venice Biennial (2007), and was the chief curator of the 8 Bienal do Mercosul in Porto Alegre, Brazil (2011). He is the author of Transpolitical: Art in Colombia 1992-2012.
The catalogue that accompanies the exhibition, Waterweavers: A Chronicle of Rivers, features a selection of visual and textual narratives about Colombian rivers across time, including an essay by the co-curators addressing the river in contemporary Colombian visual and material culture, illustrations of works by the seventeen artists in the exhibition, and excerpts from literary and historical texts, many published for the first time in English, by such acclaimed Colombian authors as Fernanado Zalamea, Tomás Gonzalez, Héctor Abad, and Alfredo Molano. Renowned graphic designer Irma Boom designed the book. Boom's previous work includes two BGC catalogues, Sheila Hicks: Weaving as Metaphor (2006), a title honored as "The Most Beautiful Book in the World" at the Leipzig Book Fair, and Knoll Textiles, 1945–2010 (2011) that also received numerous accolades.